A Partner with Japan: Renewable Energy Pledge
As a steadfast advocate for the Paris Agreement on climate change, the Japanese government had pledged to reduce the nation's dependency on nuclear energy in favor of other clean energy sources.
Fortress is pleased to be a partner in this effort by investing in 100-megawatt of solar power through a platform of solar photovoltaic systems in Kyushu, Japan and its recent portfolio of rooftop solar panels across 4,500 properties in Japan. Additionally, we've added solar panels on the roofs of approximately 1,000 buildings in our Village House portfolio, the largest non-governmental provider of affordable housing in Japan and largest provider of housing under the government's Residential Safety Net Law (a program to provide lower rents to qualified tenants). We also continue to invest in energy saving efforts across our MyStays hotel portfolio.
Investing in Clean Energy in Greece
In connection with Greece's ongoing green agenda of bringing more wind power online, Fortress partnered with a local renewable energy company to acquire a portfolio of wind farms in Greece. At acquisition, the 181 MW from this portfolio represented 7% of total wind capacity in Greece and was part of a record year in terms of the amount of wind power brought online in the country. As the Greek wind market continues to grow, we envision expanding our platform and commitment to the agenda by developing existing licenses, building additional wind farms, and opportunistically acquiring new licenses and wind assets.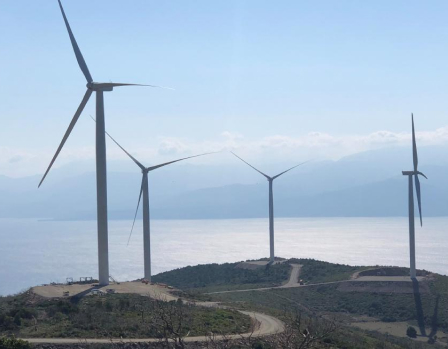 A Path to Carbon Free Power
In October 2020, Long Ridge Energy Terminal, located in Hannibal, Ohio, announced plans to transition its 485 MW combined-cycle power plant to run on carbon-free hydrogen. Long Ridge, which is a subsidiary of Fortress Transportation and Infrastructure Investors LLC (NYSE: FTAI), has partnered with New Fortress Energy's Zero division and GE to blend carbon-free hydrogen as fuel and begin providing carbon-free power to customers as early as next year. Fortress and its partners are very excited about this first-of-its-kind initiative in hydrogen power as Long Ridge will be the first purpose-built hydrogen-burning power plant in the United States and the first worldwide to blend hydrogen in a GE H-class gas turbine. Fortress is proud to play an important role in the aspirational goal of zero carbon emissions worldwide and we are confident that our experience with this initiative will lead to more carbon-free power project investments.
Find Out More: FTAI-Long Ridge Press Release, New Fortress Energy Zero Initiative