Insight
Restoring a Critical U.S. Supply Chain: A Talk with James Litinsky, Chairman and CEO of MP Materials
April 7, 2022
With Drew McKnight, Co-Chief Executive Officer & Managing Partner, Credit Funds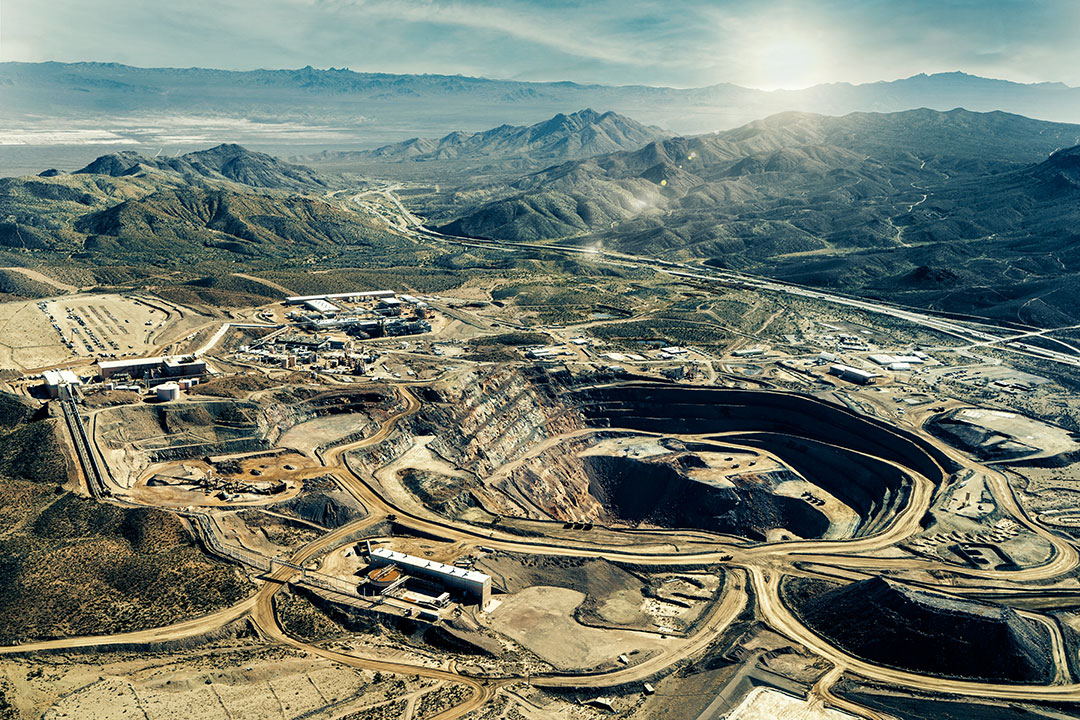 Electric vehicles, drones, rockets, robots, and smartphones—we find ourselves entering a new industrial revolution. However, today's innovation, and tomorrow's reality, will not be powered by gas, steam, or steel, but rather, by microprocessors, magnets, and batteries. To support these industries, we have turned increasingly back to the critical materials earth has to offer.
Mountain Pass–America's only scaled rare earth mine and processing facility–is in California, a short drive from the Las Vegas Strip. It was discovered in 1949 and led the world in rare earth production from the 60s to the 80s. At that point, America lost focus and ceded the industry to China, and Mountain Pass fell into disrepair.
MP Materials acquired Mountain Pass in 2017 with a mission to restore the American rare earth supply chain and quickly turned things around: Mountain Pass is now the world's second largest source of production.
In 2020, Fortress helped take MP Materials public through a merger with Fortress Value Acquisition Corp. The company joined President Biden in February of 2022 to announce it will invest more than $700 million over the next two years to move downstream and begin manufacturing rare earth magnets crucial to the energy transition.
Recently, I had a chance to sit down with the company's founder, chairman, and CEO, James Litinsky, to discuss the company's progress and our partnership. James's first job out of graduate school was with Fortress, where we sat next to each other at the time. So our work together at MP Materials, where I'm on the board, has brought us full circle.
The interview has been edited for clarity and flow.
Drew McKnight: Can you explain how Mountain Pass was discovered and why rare earths are so important today?
James Litinsky: After World War II, there was an intense focus on bolstering America's mineral supply chains. Two prospectors surveyed Mountain Pass in the late 40s and discovered the world's greatest known rare earth deposit. Production started a few years later. Things picked-up in the 60s when researchers discovered that europium, a heavy rare earth element, could produce the color red in early TVs like no other substance. Europium became so valuable it was sold for cash out of buckets for a short time. But technology evolved and demand for rare earths waned.
In the 60s, U.S. Air Force researchers discovered that rare earths could be used to produce the world's most powerful and efficient permanent magnets. General Motors helped evolve the early magnetic alloys. When we started looking at Mountain Pass in 2015, we saw an incredible demand curve for permanent magnets and rare earths on the horizon. We had a strong conviction that we would soon enter a new cycle where the value of rare earths would climb dramatically, especially rare earths sourced from the United States.
Can you talk about the uniqueness of Mountain Pass?
Mountain Pass is a co-located site with a world-class ore body adjacent to a scaled processing facility. Rare earths, from a geological perspective, are not all that rare. The ability to extract and process them economically, however, is exceedingly rare. Mountain Pass is considered world-class because the concentration of contained rare earths is about seven percent. That compares to .1% to 4% for most global deposits, including those in China. Most competing rare earth operations separate mining from processing – often by hundreds or thousands of miles. This adds logistical complexities, increases energy and carbon intensity, and ultimately, impacts a project's bottom line.
I feel very comfortable stating that Mountain Pass is the most environmentally sustainable rare earth production site in the world. We have a dry tailings facility that eliminates the need for a wet tailings pond and the associated contamination risks. After it's processed and the rare earths are removed, we return material to ground in a dry state. That's a critical environmental benefit. Only about three to six percent of mines around the world implement this process. No rare earth sites do. Also, about 95% of the water we use—a billion and a half liters per year— is recycled.
Let's go back to 2017. Tell us about the experience of taking over Mountain Pass.
The process to acquire Mountain Pass involved a two-year bankruptcy battle. My investment firm, JHL Capital Group, led the creditor group that acquired the mineral rights, and ultimately, put together the team that bought the site. Mountain Pass was idle with eight employees and on the brink of losing its permit. It was literally days away from being shut down permanently, which in hindsight, would have set the U.S. back decades.
We were fighting several creditors who were trying to send Mountain Pass into reclamation. Like a scene out of a movie, we kicked-in a few million dollars–literally on the courthouse steps–to keep the lights on and the process going. The predecessor entity had failed spectacularly, and nobody believed the U.S. would ever be able to compete with China. Nobody but us.
My team and I knew Mountain Pass was a world class asset that would sit low on the cost curve if properly managed. I would argue it's the single best rare earth ore body in the world. The challenges that had occurred under the previous owners originated from bad strategy, management, and culture. We knew the world was about to rapidly electrify and the materials Mountain Pass was uniquely positioned to produce would be increasingly valuable.
Why did you feel a SPAC was the right vehicle to go public? Why was Fortress the right fit?
In 2017 we had no corporate infrastructure. We were building the business from the ground up. It was like a distressed turnaround and start-up in one. After several painstaking years relaunching the site, we started to gain some traction and reached out to Fortress around the possibility of them investing to help us go public via a SPAC.
We were in discussions with several parties, but ultimately, we went with Fortress for a few key reasons. Obviously, you and I had a shared history, and I trusted you and Pete Briger (Fortress CEO) as business partners. But that was secondary to the expertise and partnership that I felt Fortress would bring to the process of going public.
Fortress is a world class firm with expertise in hard assets, and really, institutional assets across the board. I knew from my experience working at Fortress that the firm understands what it takes to make a great public company. I think one of the things that really distinguishes success and failure is the recognition by a management team that you're running a public company and must rise to the occasion. So, when we looked at other opportunities and the potential to head straight to IPO, we felt Fortress would be the optimal partner.
Why did you choose a SPAC versus a traditional IPO?
After acquiring Mountain Pass, we developed a long-term business plan that we knew would require significant capital and methodical execution. You cannot restore a multibillion-dollar supply chain overnight. To run the business right, and for investors to understand our story and believe in our vision, we felt that we had to be very transparent about the roadmap ahead. I think a SPAC is better suited than an IPO to deliver that multi-year roadmap transparently, provided the plan is credible and the goals are realistic. Thankfully, the MP team has delivered and far exceeded our projections.
At the time we were preparing to list the company, I returned JHL's outside capital and stepped into the role of Chairman and CEO of MP Materials full time. I wanted the deal to close, so the company would have the firepower it needed to focus on execution and succeed. It was very important to me to have deal certainty. With an IPO, you're somewhat at the whim of the markets. I felt like the best path forward was bringing-on a great partner that I could trust–someone that understood what we needed to do to position MP Materials and push the business forward. Fortress fit the bill.
Do you feel like the timing right now with the new administration backing electric vehicle infrastructure will keep playing into Mountain Pass' success?
Mountain Pass is a hard asset that has cash flows. We don't have the technology or competitive risks that most emerging companies levered to EVs have. We felt like we had–and we feel like we have–a differentiated opportunity. The capital markets seem to have recognized that. There is a growing consensus that the world is rapidly electrifying, and we are fortunate to have strong bipartisan support for our mission. Our industry, and our company, have been supported by two administrations sequentially.
It's relatively unknown how crucial rare earth materials are to national defense. Can you explain how MP's work enhances national security?
Rare earth materials and magnets power essential military equipment including laser guided missiles and jet actuators. There is a consensus that the United States must, once again, maintain the capability to produce and supply these components to our military and allies. However, defense demand for rare earths is low relative to large end use manufacturers. So, to secure the defense supply chain, we must have an industry that can scale and meet the needs of manufacturers.
Let's talk about the new magnetics plant coming to Fort Worth, Texas. Can you talk about the impact to the electric vehicle industry?
We view Fort Worth as the beginning of our push into magnetics, but it's just a first step. It's significant because it's going to give General Motors and other manufacturers a 100% U.S.-based rare earth supply chain option where one simply does not exist today. But Fort Worth will consume just a single-digit percentage of our NdPr output. There is a lot of room to grow MP Magnetics.
To give you a sense of the macro-opportunity, electrifying the entire U.S. auto fleet will require three facilities of the scale of Mountain Pass. And that excludes increasing demand from wind turbines, drones, robots, and the other electrified technologies. So, this is an exciting first step forward, but we are just getting started.
Nickel prices are currently surging, which may impact the EV market given nickel is a key battery component. Is this having an impact on MP Materials?
Over the past few years, we have seen a thematic shift away from the globalized, "just-in-time" principles that defined 20th century supply chain management. Recent events like the semiconductor shortages, the tragedy in Ukraine, or commodity shocks like nickel are intensifying that shift. Resiliency and security in the supply chain is now driving industrial and governmental decision-making, and this dynamic becomes even more critical as the global economy electrifies. We have been focused on this issue since the beginning, so events like this highlight the importance of our mission at MP.
How did the SPAC deal help generate the capital to pursue your long-term strategic goals?
When you're in a commodity business, your capital structure must reflect the business that you're in. Our business involves a volatile underlying asset class, so from day one, we were determined to maintain a very conservative balance sheet with plenty of firepower. We refer to it as a Fortress balance sheet. We were fortunate to attract a great group of PIPE investors that delivered that firepower. The business is also generating positive cash flow, so we've maintained it and padded it further by issuing what was the largest green convertible note in U.S. history at the time.
If you look at the strides we've made since taking the company public, it's clear that MP has accelerated our mission to restore the full rare earth supply chain to the United States. I'm very proud of the owner-operator culture we've developed, the team we've built, and the positive contributions we have made towards revitalizing the American manufacturing spirit.